(CHICAGO–January 3, 2019)—The Counselors of Real Estate® (CRE®)–the global invitation-only professional association for prominent commercial real estate advisors—has announced its 2019 Leadership roster.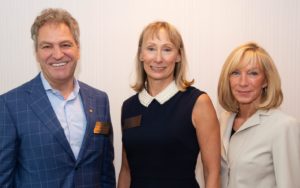 Julie L. Melander, CRE, has been elected 2019 chair of The Counselors of Real Estate board of directors.  A member of the organization since 1999, she is a real estate counselor based in Clearwater, Fla., with specialization in real estate strategy and portfolio management for private equity investors across a broad spectrum of commercial property–including data centers and healthcare facilities; land; hospitality; retail; office; industrial; and mixed-use portfolios.  She earned an MBA degree from the University of Chicago, and an undergraduate degree in finance and accounting from Indiana University.
As chair of The Counselors, Ms. Melander will lead all activities of the organization, including its international growth and thought leadership initiatives, such as development of the annual CRE Top Ten Issues Affecting Real Estate™—the eighth of which will be announced in June, 2019.
The 2019 first vice chair is Michel M. Couillard, CRE, FRICS, president and CEO, Busac Real Estate, Montreal, Quebec, Canada.  Mr. Couillard directs all of Busac's business activities in Canada, and participates in the company's asset management; acquisition; and development projects in the United States. Invited to Counselor membership in 1997, Mr. Couillard holds an MBA degree from the University of Toronto and York University, where he also received a bachelor's degree in economics and finance.
Marilee A. Utter, CRE, FRICS, serves as 2019 second vice chair of the Counselor organization.   She is president, Citiventure Associates, LLC, Denver.  Invited to CRE membership in 1996, Ms. Utter has developed strategies and solutions for challenging land use problems in more than 40 cities in the U.S. and globally, with particular expertise in transit-oriented development.  She received a BA in mathematics and French from Colorado Women's College, an MBA from UCLA's Anderson School of Business, and holds a certificate in state and local public policy from Harvard University's Kennedy School.
The Counselors of Real Estate is an international consortium of recognized problem solvers who provide reliable, state of the art advice on real property. The organization is known for thought leadership, extraordinary professional reach (more than 50 real estate specialties are represented by its member experts) and objective identification of the issues and trends most likely to impact real estate now and in the future. Membership is extended by invitation and includes principals of real estate, financial, legal, and accounting firms as well as developers, economists, futurists, and leaders of Wall Street and academia. Counselors of Real Estate endowed the MIT Real Estate Center, brought parking garages to China, developed a master plan for the Philadelphia Public Schools and valued Yale University and The Grand Canyon. Award of the CRE® Credential attests to the exceptional real property experience and decision-making skills of the recipient. Counselors reside in 20 countries and U.S. territories.
Contact: The Counselors of Real Estate, 430 N. Michigan Avenue, Chicago, IL 60611, +1  (312) 329-8427. www.cre.org.