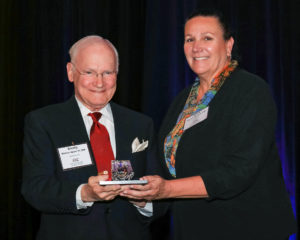 (Chicago)—August 8, 2018—The Counselors of Real Estate® professional association has announced Mahlon  ("Sandy") Apgar IV, CRE®, a real estate counselor based in Baltimore, Md., as its 2018 recipient of the James Felt Creative Counseling Award. 
He was honored for his vision and insights in chronicling the Boston Consulting Group (BCG)'s "21st Century Workplace" design for its move from Park Avenue in New York City to the new Hudson Yards development on Manhattan's west side.  He served as senior counsel to the BCG Team, which examined all aspects of the relocation.  The move consolidated two BCG offices and transformed the new workspace into a pioneering "professional community."
The award, established in 1992, celebrates outstanding achievement and ingenuity in real estate counseling by a credentialed CRE® member, and was presented at The Counselors' 2018 Midyear Meeting in Chicago.
First Two-Time Winner in History of the Award
Mr. Apgar, who specializes in corporate real estate strategy, organization and workplace consulting, is the first Counselor to receive the award twice.  In 2002, he was honored for developing a unique program to privatize U.S. Army housing–an initiative which, over time, has produced 88,000 new and revitalized houses, cleared a $6 billion maintenance backlog, injected $15 billion of private capital, and promoted a new model for public-private partnerships.
"The Wise Person in the Room"
In her introduction to the award presentation, selection committee chair Alice DeJong, CRE, vice president, PGIM, Madison, N.J., said,  "During our committee deliberations, one of the participants described Mr. Apgar as the wise person in the room  "In all, he contributed over 100 recommendations, analyses, and suggestions which resulted in a step forward in workplace design and development."
BCG's new Hudson Yards offices include open designs with many types of workspace configurations that offer a mix of collaboration and privacy, depending on the project and type of work. It also offers features and amenities such as proximity to public transit, casual cafes, food services, a fitness center, and breathtaking views of the City.
Mr. Apgar emphasized this project's exceptional outcomes: BCG increased its usable space capacity by 80% and collaboration space by 140%, yet occupancy costs per person shrank 55% and space per person dropped 47%.
A History of Real Estate Counseling and Advisory Services
In his real estate advisory career, Mr. Apgar has served more than 150 clients on over 550 projects in 13 countries including the U.K., France, Japan and Saudi Arabia. Baltimore's Inner Harbor, Disney World in Orlando, Fla., and Playa Vista, Los Angeles, Ca, are some of his more notable assignments.
In addition to founding Apgar & Company, he was a partner of both McKinsey & Company and BCG. In 1998, President Clinton appointed Mr. Apgar as Assistant Secretary of the Army for Installations and Environment, with responsibility for the Army's global real estate and infrastructure portfolio, environmental remediation, base closure and realignment process, and energy management. He was the first real estate professional to hold this influential position. He also led the Army's negotiations with the National Trust for Historic Preservation to restructure and streamline the management of over 70,000 historic military properties.
Invited to Counselor membership in 1986, Mr. Apgar is a graduate of Dartmouth College, where he was a Rufus Choate Scholar.  He studied at Oxford University, and earned an MBA from the Harvard Business School, where he was a National Fellow and an Editor of The MBA. He created and taught the MBA real estate course at Oxford, and has taught and mentored at Harvard, Princeton, and Yale.  With his wife, Anne, Mr. Apgar established the Apgar Awards which recognize exceptional young teachers for excellence early in their careers; today the award program has expanded to include innovation and excellence in professional organizations.
The Counselors of Real Estate is an international consortium of recognized problem solvers who provide reliable, state of the art advice on real property. The organization is known for thought leadership, extraordinary professional reach (more than 50 real estate specialties are represented by its member experts) and objective identification of the issues and trends most likely to impact real estate now and in the future. Membership is extended by invitation and includes principals of real estate, financial, legal, and accounting firms as well as developers, economists, futurists, and leaders of Wall Street and academia. Counselors of Real Estate endowed the MIT Real Estate Center, brought parking garages to China, developed a master plan for the Philadelphia Public Schools and valued Yale University and The Grand Canyon. Award of the CRE® Credential attests to the exceptional real property experience and decision-making skills of the recipient. Counselors reside in 20 countries and U.S. territories.
The James Felt Creative Counseling Award–which celebrates outstanding achievement and ingenuity in real estate counseling–was established in 1992 in honor of the late CRE founding member James ("Jack") Felt, a prominent real estate pioneer who was a former chairman of the New York City Planning Commission.  Submissions to the committee are judged on scope of the assignment, the Counselor's role, creativity and innovation applied in addressing the initiative, and the public or social benefits achieved.
For more information, contact The Counselors of Real Estate, 430 N. Michigan Avenue, Chicago, IL 60611; +1 (312) 329.8427;  info@cre.org; https://cre.org