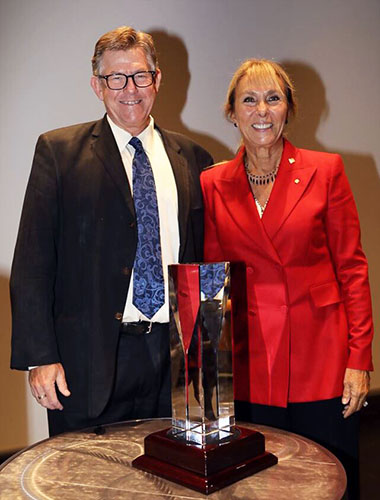 (CHICAGO)—October 24, 2017—The Counselors of Real Estate® (CRE®) professional association has named Guniz Celen, CRE, chief executive officer and chairperson, Celen Corporate Property Valuation & Counseling Inc., Istanbul, Turkey, as recipient of the 2017 James D. Landauer/John R. White Award–the highest honor conferred by the 1,100-member global real estate organization, in which membership is by invitation. The award was presented during The Counselors' annual convention, in Montreal, Quebec, Canada.
The award honors a real estate practitioner who has furthered the ideals of The Counselors of Real Estate—integrity, competence, community, trust, and service—and is viewed by peers as a real estate leader who has had a major impact on their community and/or, in the case of Ms. Celen, the world.
Ms. Celen was recognized as a trailblazer and change agent in the global real estate industry, who is also dedicated to improving young lives through education.
In presenting the award, 2017 CRE chair of the board Scott Muldavin noted Ms. Celen's impressive record of business achievement as a developer and valuation expert, and described her as a trailblazer in Turkey, where, prior to her efforts, there was no understanding of the concept of property valuation. She immersed herself in the study of Appraisal, becoming her country's first designated expert in the field (MAI) and worked with government officials to establish the regulations necessary to bring credibility and acceptance of real property valuation to the country and its business leaders. "She basically established the modern real estate sector in Turkey as we know it today" said colleague, Ersun Bayraktaroglu, a partner at PwC.
She also established the Appraisers' Association of Turkey, guided its development into a thriving professional group and served as its chair for six years.
Ms. Celen is an energetic supporter of Darussafaka ("Home of Compassion"), a residential school in Istanbul which houses and educates more than 1,000 of the country's 17,000 orphans. Her dedication to this institution led her to develop a management system to maximize the school's property assets and to spearhead a major development initiative that will significantly expand the school's facilities to serve a larger number of young people in need. She has contributed countless hours of her time to increasing scholarship funding for students who wish to continue their studies at the university level.
An architect whose degrees include the M. Arch and the MBA, Ms. Celen was awarded the Counselor of Real Estate credential (CRE) in 2002. Prior to launching her own development and advisory firm in 1995, she was an international construction project engineer and later held the position of executive vice president for investments at KISKA Holdings, a group of construction companies.
Ms. Celen was cited for her extraordinary "energy, independence, candor and life long willingness to take a stand." In accepting the award, Ms. Celen recalled the words of her mother, Nadide Feriha Bekcan , in inspiring her accomplishments, both personal and professional: "You feel you are alive as long as you can dream."
The CRE Landauer/White Award was established in 1986 as a memorial to honor CRE James Landauer for his instrumental role in establishing The Counselors of Real Estate. In 1997, the award was renamed the James D. Landauer/John R. White Award, to honor another high profile professional, John Robert White, who served as a long-term chairman of the Landauer Company as well as President of The Counselors of Real Estate in 1969.
The Counselors of Real Estate®, established in 1953, is an international group of high profile professionals including members of prominent real estate, financial, legal and accounting firms as well as leaders of government and academia who provide expert, objective advice on complex real property situations and land-related matters. Membership is selective, extended by invitation only. The organization's CRE (Counselor of Real Estate) credential is granted to all members in recognition of superior problem solving ability in various areas of real estate counseling. Only 1,100 people in the world hold the CRE credential. For more information, contact The Counselors of Real Estate, 430 N. Michigan Avenue, Chicago, IL 60611; +1 312/329.8427; http://www.cre.org.