"Leverage Your Interests."
How does a Harvard University graduate with a degree in Government and an aptitude for music become the go-to real estate appraisal expert for airports across the U.S.?  Winthrop D. ("Win") Perkins, CRE, president, Airport and Aviation Appraisals, Inc., Bastrop, Texas, says first identify what interests you most, then a profession will follow.
The Backstory
For Mr. Perkins, it was airplanes. "I was an 'airport rat,'" he says, which he defines as a child who spends every spare moment at an airport. "I always loved planes," he explained. At age ten, he was so familiar to everyone at the local (Norwood, Mass.) airport, he was enlisted to help clean small airplane exteriors as his first job. "Sometimes one of the pilots would give me a ride in his plane," he recalled. "Many of the pilots had flown in World War II. I learned so much from them."
In college at Harvard University, he studied under some of the most well-known economists and political figures of the 20th century—John Kenneth Galbraith and Daniel Patrick Moynihan. But in his spare time, he had to choose between his extracurricular interests—airplanes and music. He secured a job at a small airplane factory, rehabbing planes, but also worked in a recording studio. He learned to fly, then joined the Massachusetts Institute of Technology flying club (affiliated with Harvard). "Flying won," Mr. Perkins says.
Career Catalyst
Mr. Perkins' father—who emigrated from Great Britain to the U.S. in the 1930s and served in the U.S. Army in both World War II and the Korean War—helped make the vital connection between fun and profession.  "In the early 1960s, my Dad was named head of engineering at the Veterans Administration Hospital in Boston.  He had to learn to manage everything about the hospital building and its systems," Mr. Perkins shared. "I was curious about that, often visited him there, and it turned out to be my first introduction to real estate.  He told me to leverage my ability with my interests—he saw the connection between airports and real estate.  Airports ARE real estate. Once I understood that, there was absolutely no question in my mind what path I would follow."
Mr. Perkins initially pursued a career in real estate with J.L. Wooten (now JLL), where he worked in leasing and learned the appraisal business; he then became an independent contractor. "When I was asked to look over a flawed appraisal for an airport, it occurred to me that not unlike the title character in the movie 'Ace Ventura, Pet Detective,' you actually can be the best at what you do—and be the only one who does what you do," he explained.  He even advertised himself in an appraisal publication as "Airport Top Gun for Hire."  Did that make an impression in the airport industry?  "Yes! Airport management started calling. Word of mouth traveled fast.  By 1987, I was able to completely focus my business on airports."
Key Insight
His company performs business valuations, airport real estate appraisals and appraisal of other aviation related assets.  Mr. Perkins has also been an airport developer, and owns a hangar and fixed base operation facility in Morristown, N.J., giving him a unique perspective—which clients (municipalities, airport authorities, banks, corporations, and other airport users) say is the best of both worlds.  On his LinkedIn page, Mr. Perkins says "I've been told that my appraisal style is more practical than most. I ask questions designed to make clients understand the implications of what it takes to actually make something work."
He also believes his CRE credential "outranks" other credentials.  "It increases your value to the client," he says.  He sees it as signifying objectivity and creativity in problem-solving—not tied to one particular doctrine or taking sides—and adds that he highly values the collaborative spirit of The Counselors' members.
Most Interesting Project
Mr. Perkins' most interesting (and challenging) real estate consulting assignment played out in 2011 at Love Field in Dallas.
The project involved valuing the old Braniff Airlines maintenance complex, built in 1958—a building with an unmistakable profile, Mr. Perkins says. "It's the one you can see in the famous 1963 newsreel footage of Airforce One taxiing from the runway with President John F. Kennedy aboard, shortly before he was assassinated in Dallas."
In the decades that followed, Love Field's airline service was limited by the Wright Amendment, a federal law that protected the newer, regional Dallas-Ft. Worth airport from competition.  Eventually, the law was repealed. "My assignment took three years to complete; in addition to appraisal, it included operational issues involving aircraft and their commercial applications, the inside-the-fence airport property characteristics, and the same 'sporty game' spirit of the early airline fathers I had read about as a kid, which had pushed me toward aviation in the first place."
Fun Facts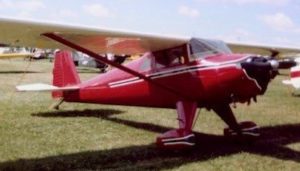 His first airplane was a 1947 Luscombe, which he restored himself.  He also owns a 1966 single-engine Beechcraft Debonair.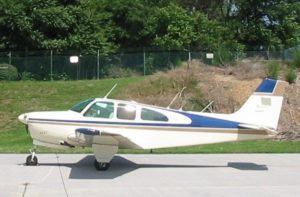 He's also intensely interested in photographs of World War I and World War II. "My collection includes around a quarter of a million photographs," Mr. Perkins explained. Many include battle scenes, and airplanes (of course). Posters, particularly those recruiting young men to join the military, are also jewels of his collection. With a nod to his heritage, he most enjoys war posters printed abroad, such as the original WWI Irish examples he shared.