"Long-term relationships matter.  Your reputation matters.  Providing great service matters.  Giving back to the community matters.  And being a part of organizations like The Counselors matters."
Ruth Colp-Haber's parents and grandfather spent their distinguished careers as medical doctors, so one would presume Ruth's professional trajectory would follow the same course.  That is until she was told by her mother that she "would never cut it in medicine!" Taking the comment to heart, Ruth became the first person in her family to enter the world of business, graduating Magna Cum Laude from the University of Pennsylvania and earning her MBA in finance from The Wharton School.
After spending a few years as an investment banker on Wall Street including managing a $500 million mortgage trading portfolio, in 1989 Ruth founded Wharton Property Advisors which is a boutique tenant representation firm in New York City.  Given how difficult the real estate market was at the time and despite some discouragement from others, she transitioned into real estate after talking with a business advisor who suggested she would be "a natural" in office leasing.  That sage advice held true as Ruth closed 18 transactions her initial year in business, the first being a 2,000 square-foot lease with a New York hedge fund which has remained a long-time client.  Her largest transaction to date is a 60,000 square-foot lease of raw space at 30 Wall Street where she represented both the landlord and shared space tenant WeWork.
"Small becomes big," says Ruth. "You do a good job and you get more work."
More than 500 deals later, she has built her reputation through honesty, diligence, and creativity—and in a city that she says has "the biggest rats in the biggest race."  Double entendres aside, her motto is "be true to yourself" while recognizing everyone has their own style.
"I take pride in creating solutions that minimize the liability of a lease.  And the mere introduction of an experienced real estate advisor puts the landlord on notice that market realities will not be ignored and that the tenant will be professionally represented in all aspects of the negotiation," says Ruth.  "This immediately increases a tenant's negotiating leverage.
"Landlords know that it can take 12 months for a tenant to relocate.  So, when a tenant starts renewal negotiations with only a few months remaining on its lease, it indicates to the landlord that renewal may be the tenant's only real option.  I often tell clients 'even if you plan to stay put, act as if you're ready to move.'  A competitive environment is crucial to an effective negotiation.  The landlord will not negotiate seriously unless it is made clear that the tenant can, and might, relocate—even when they have absolutely no inclination to do so."
A CRE since 2017, Ruth says the market value of any office space is a function of two factors—the condition of the space, and rental rates both in the building and the neighborhood in general.  "The value of the space to the landlord is a critical factor.  What rent could the landlord expect to realize if the space were vacant and had to be rented to an outside tenant?  If the market dictates a landlord contribution of $20 per square foot toward tenant improvements, and a renewal would not require this expense, the rent for a ten-year renewal should be approximately $2 per square foot lower than the market rent."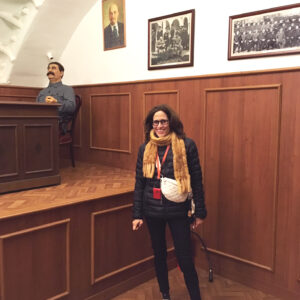 Fluent in Spanish and a prolific reader, Ruth's personal interests include Victorian literature, the Spanish Civil War, and art history. She has a fascination for European and Russian history, recently visiting Joseph Stalin's bunker in Moscow. "The experience gave me a sense of the enormity of World War II from the other side of the world."
Prior to being invited to membership in The Counselors, she says some of her long-time friends in the business assumed she was already a CRE.
"Long-term relationships matter.  Your reputation matters.  Providing great service matters. Giving back to the community matters.  And being a part of organizations like The Counselors matters."  Among the beneficiaries of her philanthropy are St. Mary's Healthcare for Children in Queens, and the University of Pennsylvania's Center for Hispanic Excellence.
Ruth believes resourcefulness is an important factor in her firm's success, a skill necessary for pricing and marketing difficult spaces especially in the sublease market.  "I often take big spaces and set up incubators with several small tenants. The goal is to bring in subtenant revenue from what could be an unusual floor plan or a short term remaining on a lease."
Though market fundamentals are much stronger than a decade ago, she says "the sublease market can be flooded with space and most of it is fantastic. However, if you look at the profile of the average sublandlord, they may be putting space on the market because they're having financial difficulty.  Therefore, some type of lease default and maybe even bankruptcy is conceivable. Companies that sublease space can protect themselves by negotiating the right to stay in the space with the building's landlord if the sublandlord should default."
In certain situations, she adds, "the subtenant is in a strong position because neither the sublandlord nor the landlord wants the space to remain vacant.  A potential tenant can use this leverage to negotiate positive terms and win great space at a below-market rent. Subleasing is an important option every tenant should consider."
While the tenant representation landscape is dominated by big players, Ruth's niche of primarily serving the small to medium-sized tenant community has unmistakably worked out well—both for her and her clients, many of whom she's worked with for decades.