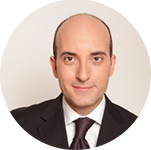 "Dramatic Architecture Attracts Tourism."
Giuliano Gasparini, CRE, FRICS, is Senior Vice President – Asset Management & Acquisitions, Hotels & Leisure at ALDAR Properties PJSC,  the largest publicly traded development and management company in Abu Dhabi, United Arab Emirates.  A native of Italy, "GG" (as he is known to friends and CRE colleagues) has extensive experience counseling on hospitality real estate projects throughout Europe, North Africa and the Middle East.
In addition to traditional asset management, including analyzing hotel operations, renegotiating contracts and centralizing purchasing to increase efficiency and value across the hospitality portfolio, he works with Aldar's team of architects and engineers to identify unique concepts for developing new hotel properties and their surrounding residential communities.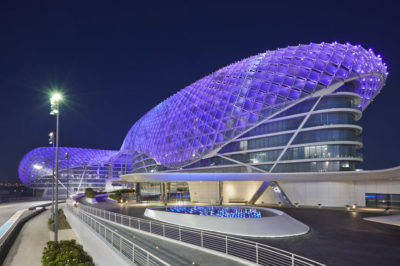 An example of a property in GG's portfolio is the 5-star luxury Yas Viceroy Hotel developed by Aldar.   Racecars compete on the nearby track, the site of the Abu Dhabi Grand Prix, and actually race under the hotel itself.   The hotel is on Aldar's Yas Island, which includes attractions such as Ferrari World theme park; Yas Mall, the largest shopping venue in Abu Dhabi (featuring more than 400 international brands); the Yas Links Golf Club; and Yas Marina, home to yachts, restaurants and world-class concerts.
Backstory: GG received an undergraduate degree in Economics and a Master's degree in Tourism Economics from Universita Commerciale Lulgi Bocconi in Milan, Italy.  He developed a passion for hospitality and real estate during his college years, and subsequently received an M.S. in Urban and Metropolitan Management/Urban Economics from Erasmus Universiteit in Rotterdam, Netherlands.  He completed the Hotel Real Estate Investment & Asset Management real estate program at Cornell University.  Since 2001, GG has served as a college professor, teaching real estate courses in Italy, Spain and Dubai; and was a hotel real estate consultant for KPMG in Hungary, for HVS and KLL in Spain, and for PKF Dubai.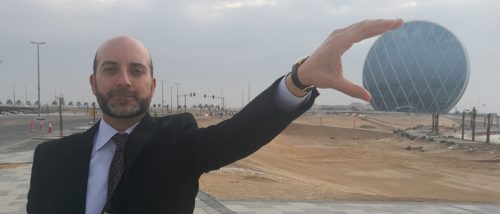 Working in the Middle East: GG's office is in the futuristic Aldar headquarters building at Al Raha Beach in Abu Dhabi.  "Because of its distinctive round shape, the building is locally (and affectionately) nicknamed "The Cookie" or The Coin." It's near the desert filming location where portions of the 2015 hit movie, "Star Wars: The Force Awakens," were shot. Abu Dhabi is spread over several nearby islands, making city life very popular, with many townhouses and villa housing.  GG lives in a high-rise building near the office.  "The city is very well designed," GG says.  "It is very walkable.  And, as in Dubai, so many professional people have been educated in in the U.S., U.K. or other Western-based schools, it makes social interaction quite easy."
Suits (and a tie when weather permits) are GG's usual work attire.  "But," he explains, "Office colleagues who are Emirati wear traditional clothing – men wear the 'kandura' (long white dress) and the white head scarf (called a 'gotra');  Emirati women coworkers wear the 'jalabiya,' (long black dress) and an 'abaya' (headscarf) to cover their hair.  Apart from a lot of black and white clothing, life in the office is like any other office environment and interactions."
Trend to Watch: "Signature buildings and highly dramatic architecture are becoming important tourist attractions in many parts of the world, particularly in the Middle East and Asia," GG says. "Developers are creating contemporary 'monuments' of unusual shapes, sizes and materials, often as part of resorts or paired with other tourist attractions. Cities are attracting significant tourism through 'destination architecture' of this type, as people travel to see it, book hotel rooms in it or near it, and often buy residences there as well."
Key Insight: "Every Counselor I've interacted with is a true professional and an even better person.  You don't find that in other organizations," GG notes. He is The Counselors' first member in the UAE. "It is a great honor, but also a great responsibility. I don't want to be the only Counselor in Abu Dhabi forever," he says. "I'm already thinking about experienced professionals in this part of the world who may be good future candidates for CRE membership." GG plans to attend the CRE Annual Convention in Montreal this September to meet more of his CRE colleagues from around the world.
Fun Facts: GG is extraordinarily busy. In addition to teaching, and when he is not traveling on business, he plays tennis and works out in the gym. He is fluent in English, Italian, Spanish, Portuguese and some Mandarin Chinese languages. Where does he get the time? "I don't have a television. That leaves a lot more time to do everything else. It's hard to be a couch potato if you don't have a TV."