"Having the opportunity to match my passion for flying with the mission of helping others is a gift."
When a friend asked David Dominy, CRE, to accompany him a few years ago in his private plane to fly a skin cancer patient from Sherman, Texas, to the MD Anderson Cancer Center in Houston, he didn't hesitate.  The benevolent experience inspired David and introduced him to Angel Flight South Central, a non-profit that enlists certified volunteer pilots and offers free air transportation for medical and humanitarian purposes.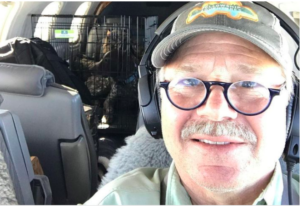 "People who require specialized medical treatment that may not be available locally should not have to fly commercially or drive several hours to receive that treatment," says David, who has volunteered for Angel Flight since 2014.  "Having the opportunity to match my passion for flying with the mission of helping others is a gift."
A managing director on JLL's Valuation Advisory team in Houston, David is now using his 43 years of flying experience to help others during the COVID-19 crisis.  A March 15 flight of 230 nautical miles was his latest trip, and one of the most important of his life.  He volunteered to fly an immunocompromised passenger and her daughter on a private flight from their home in Laredo, Texas, to MD Anderson.
"There's quite a need right now in light of the pandemic," says David.  "I'm often looking at the Angel Flight manifest of available flights with the hope of doing another mission later this month.  I have the same wonderful feeling every time I complete a flight and visit with the passengers, knowing it made their day a little better than it would have been otherwise."  He says he'd like to complete as many as 12 missions in 2020.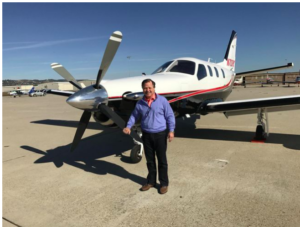 David flies a single-engine Daher TBM aircraft from Houston Executive Airport and uses it often for JLL assignments as well.  "I fly a lot to West Texas and North Central Texas for litigation cases.  The efficiency of being away from the office for one day versus three days is invaluable."
Though he had early aspirations of becoming a medical doctor—he currently serves on the board of the Baylor College of Medicine—real estate was in David's blood.  His father Jerry had a distinguished career as an appraiser, starting his own firm in 1962.  The family business became one of the original members of the Integra Realty Resources network in 1999, with the Houston affiliate ultimately being acquired by JLL in 2016.  Before concentrating on the valuation side of the business, though, David was involved in the development and sale of 5,600 multifamily units across the U.S.
A CRE since 2008, David believes the "industry is so intriguing to me because of the diversity of real estate."  He says some of his more interesting assignments have included consulting with a client on a salt dome acquisition, assisting in a dispute related to a ship-building facility, working with an airport authority in the determination of a replacement cost for munition storage bunkers to accommodate a runway clear zone, valuation of rights within a railroad corridor spanning the U.S. and Canada, assisting with the acquisition of properties near a rocket launch site, and valuation of wetland mitigation sites.
Since COVID-19 has dominated life as we know it, David and his JLL colleagues have seen a significant increase in calls for valuations for ad valorem tax purposes.  "The local county appraisal district has been very aggressive in adjusting property values and many view this as an opportunity to reset the base.  The pandemic, along with the dramatic drop in oil prices, will likely impact a number of property types at least in the near term."
While society's new normal is still very much unknown, there's one thing we know for sure.  David Dominy, CRE, represents a core value of the Counselor culture: generosity of spirit and selflessness when and where it's needed most.