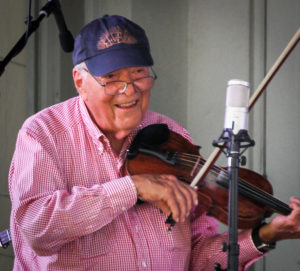 Fletcher Bright, CRE, Chairman of the Fletcher Bright Company, Chattanooga–whom the Chattanooga Times Review called "perhaps the most successful real estate developer the region has ever known"–passed away at his home in Lookout Mountain on December 25, 2017 at age 86.  He was a member of The Counselors of Real Estate for 50 years.
Mr. Bright earned a bachelor's degree in economics from Davidson College in North Carolina, where he was a member of Phi Delta Theta fraternity.  He joined his father's real estate business in 1953, and often piloted the corporate plane himself.  Over the past 35 years, the company developed more than 100 new retail shopping centers, from small single-tenant projects to 600,000 square foot destination malls, as well as significant residential communities.
Locally and nationally he was known as a friend and philanthropist to musicians in the bluegrass genre, particularly those who play the fiddle–his instrument of choice.  As a teenager, a passion for music fueled formation of his bluegrass band (the "Dismembered Tennesseans") and, except for a brief hiatus during World War II, it has continued to perform for 72 years.  Mr. Bright is the founder of the Three  Sisters Bluegrass Music Festival, a free-to-the-public event held each fall in Chattanooga. The International Bluegrass Music Association honored him this year with their Distinguished Achievement Award for a lifetime of service  to the community.
(Photo by Frank Baker)