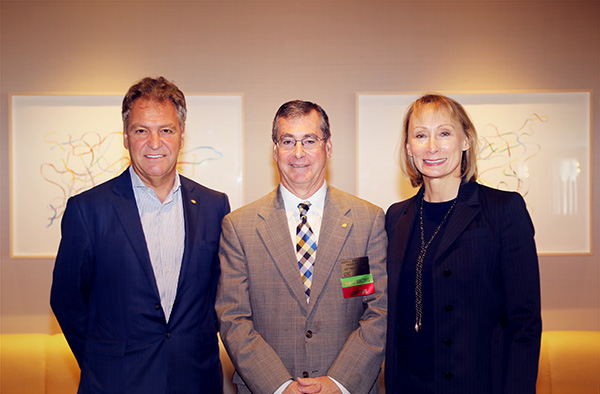 (Chicago) October 4, 2017 – Joseph G. Nahas, Jr., CRE, FRICS, senior vice president, institutional marketing and investor relations, Equus Capital Partners, Ltd., Philadelphia, was elected 2018 chair of The Counselors of Real Estate® board of directors at the organization's 2017 Annual Convention last week in Montréal, Canada.
The Counselors of Real Estate is the international professional organization of prominent real estate practitioners recognized for their expertise, experience, and ethics in providing advice that influences real estate decisions. Membership and the award of the CRE® credential, is by invitation.
Since being invited to Counselor membership in 1998, Mr. Nahas has provided continuous service and leadership to the group. He chaired or served on numerous CRE committees – including education, membership, budget and finance, bylaws, and executive – was an officer of the CRE Delaware Valley chapter, and led the Counselors in the Classroom initiative, in which members volunteered to serve as guest lecturers in university real estate programs. He was elected to The Counselors' board in 2014.
At Equus, Mr. Nahas directs institutional capital raising, marketing, and investor relations. He is involved in numerous civic and community organizations, including serving on the board of trustees of both the Gwynedd Mercy Academy High School and Blessed Sarnelli House; currently he is a member of the advisory board for Holy Innocents Area Elementary School. He instructs as an adjunct professor in commercial real estate investment at Villanova University School of Business. He earned his MBA in real estate finance, and undergraduate degree in economics from Temple University. He holds the FRICS designation from the Royal Institution of Chartered Surveyors.
Others elected to 2018 leadership roles in The Counselors of Real Estate:
Julie Melander, CRE, vice president, senior asset manager, Capital Crossing Servicing Company, Boston, will serve as 2018 first vice chair of the board of directors, and will assume the role of CRE board chair in 2019. She is responsible for investment, management, and workout of distressed debt portfolios for Capital Crossing. Ms. Melander has been a Counselor of Real Estate since 1999. She earned an MBA in finance from the University of Chicago and an undergraduate degree in finance and accounting from Indiana University.
Michel Couillard, CRE, president and chief executive officer, Busac Real Estate, Montréal, will be 2018 second vice chair of the board of directors and will become CRE board chair in 2020. A Counselor since 1997, Mr. Couillard leads Busac's overall investment activity, development strategies and portfolio growth, manages all business activities across Canada, and asset management, acquisition and development projects in the U.S. He holds an MBA degree from the University of Toronto and York University, Toronto, where he also received a bachelor's degree in economics and finance.
The Counselors of Real Estate®, established in 1953, is an international group of high profile professionals including members of prominent real estate, financial, legal and accounting firms as well as leaders of government and academia who provide expert, objective advice on complex real property situations and land-related matters. Membership is selective, extended by invitation only. The organization's CRE® (Counselor of Real Estate) credential is granted to all members in recognition of superior problem solving ability in various areas of real estate counseling. Only 1,100 people in the world hold the CRE credential. For more information, contact The Counselors of Real Estate, 430 N. Michigan Avenue, Chicago, IL 60611; 312/329.8427; https://cre.org