Marilyn Hett, while employed by a county economic development department, was responsible for administering a 30 million dollar Tourism Development Program. In early 2012, she was asked to take on an additional responsibility – to distribute 2 million dollars in a new Historic Preservation Grant Program. There was no actual program in place to implement the fund, and the first million dollars had to be distributed by that Summer. She took on this project with no administrative budget or staff. She has worked with over 80 clients in their efforts to tap into this program and to carry out each project to a successful completion. Due to the efforts of our recipient, this program, which was originally intended to last only two years, has continued to be funded by the county each year.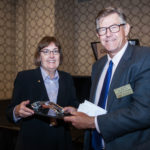 The project promotes the historic preservation of commercial and special use buildings, heritage tourism, landscapes and sites, and related business and economic development within the county.
Among the many benefits of the program, it preserves our history, beautifies public spaces, and contributes to the protection of historic and cultural assets. It protects and restores threatened and endangered buildings. It also promotes adaptive reuse of historic buildings, supporting small and medium-sized local businesses and entrepreneurs.
So far, the program has granted 5.7 million dollars for projects throughout the county, and expects to grant another million dollars this year.
For her work on the Hillsborough County Historic Preservation Challenge Grant Program, we are very happy to present the 2017 James Felt Creative Counseling Award to Marilyn Hett.