A sequel to "No Siesta for Los Cabos". (Pub. Real Estate Issues December 2022)
The State of Baja California Sur (BCS) in México, home for Los Cabos, considered one of the World´s top 3 places to invest in Real Estate, is comprised by 5 major market areas: Cabo San Lucas (and its Corridor), San José del Cabo (and its corridor), East Cape, Pacific-Todos Santos and La Paz (State capital).
Baja California Sur Real Estate Market made its entrance to the big leagues in 2021, during the Pandemic, posting an impressive $1.581 Billion Dollars in sales. A 310% increase over 2020. Foreigners; mostly American and Canadians, landed in Los Cabos, discovering a safe Paradise with world-class amenities, and bought extensively. Some thought this was just a short-lived bobble, but the smart visionary investors bought San José Del Cabo and Cabo San Lucas, where land was getting scarce and expensive, and as an alternative, money found its way to East Cape (Cabo Del Este) during the early period (2019 and 2020), where important developments, such as the 4 Seasons and Aman resorts in La Ribera of East Cape were built, becoming magnetic poles, attracting further capital and projects. However, during 2021, 2022 and the first 5 months of 2023, the Pacific-Todos Santos market has taken the lead attracting new investments and the buyers' preferences.
San José del Cabo and Cabo San Lucas are mature, predominant markets that have experienced substantial price increases through the past 10 years. At the closing of 2022, in the B.C.S. market, as a whole, the average price of homes sold (721) in that year, came to $1,029,682 dollars, compared to $720,135 for the 395 homes sold in 2019, equal to +42.89% price increase and an 82.53% increase on number of homes sold. The average price of Condominiums sold (1,136) in 2022 came to $447,316 dollars, compared to $403,441 average for the 415 units sold in 2019, representing a +10.77% price increase and a +173.74% on number of units sold!

2022 B.C.S. Total Sales and Sales Per Market
The analysis of Land sales also reflects a similar uptrend behavior: during 2022 there were 744 land units sold, with an average price of $283,316 dollars, compared to 2019 (498 units) sold, at an average unit price of $175,499. Thus, the land sale price increased 61.43%, and the number of units sold were up 49.40%.
B.C.S. Historical Performance 2018 – 2023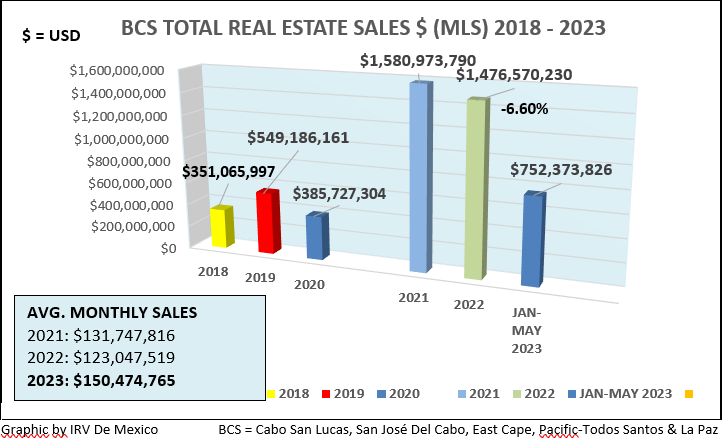 The 2023 Market, So Far Overtaking 2021 Record Year


The B.C.S. market has remained strong during the first months of 2023, with 1st Quarter sales of $443,283,677 up 27.70% Vs 1Q-2022. The total average monthly sales for the period from January to May, 2023 came to $150.474 million, compared to $131.747 million in 2021; making it the best monthly average ever.
Where Money is Going
The 2023 revelation has been the remarkable sales favoring the Pacific-Todos Santos Sub-Market, widely overtaking East Cape and competing with Los Cabos major markets. The most recent MLS data shows that the Pacific market, from Cabo San Lucas to Todos Santos has attracted the buyer's preferences and the attention of investors and developers. If sales continue with these dynamics, 2023 will become the best year ever for the real Estate market of Baja California Sur, driven mainly by Los Cabos and especially by the arising of the Pacific-Todos Santos market.
2023 B.C.S. January to May Sales Per Market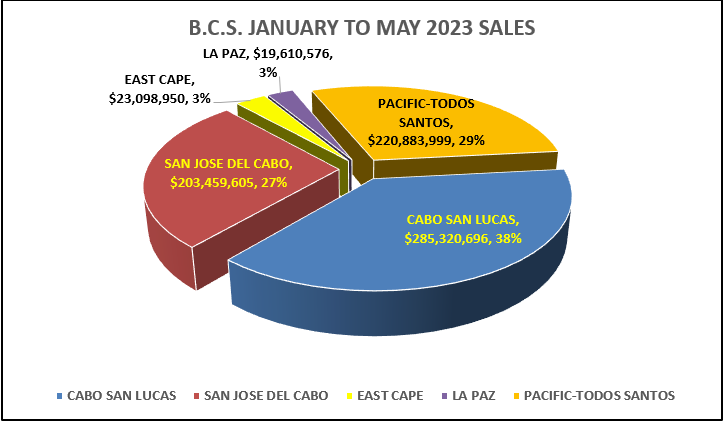 B.C.S. Market Performance During January to May 2023

Certainly, Los Cabos and its environments, is living an unprecedent real estate boom, it seems that the astonishing beauty of the Pacific shoreline, combined with the magic spell of Todos Santos, have converged at the right time and place for the Pacific to capture the buyers and investors' minds and soul.
---
Oscar J Franck Terrazas, CRE, FRICS, RICS Reg. Valuer. © June 15, 2023
Data source: MULTIPLE LISTING SERVICE – BAJA CALIFORNIA SUR
For further information, contact Oscar J Franck Terrazas at ofranck@irvaluation.com