In April 2020, we surveyed Counselors of Real Estate to learn more about how the COVID-19 pandemic crisis was impacting their business. We received 194 responses from members living in many regions across the United States, as well as in Canada, Italy, Germany, Turkey, and Japan. Here's what they said:
What type of organization or firm do you work for? Select all that apply.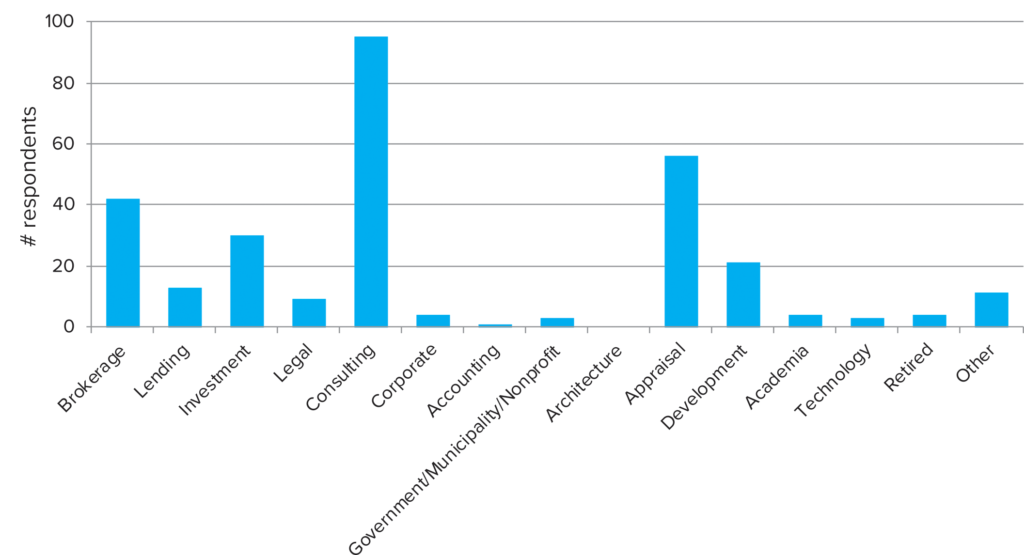 Here's what Counselors said about how the crisis is impacting their services:
" Until lenders start to lend again, most of my business is stalled. Without lenders, my buyers have pulled in their horns and will sit on the sideline."
" In difficult economic times, the appraisal business generally increases."
" We expect a decline in appraisals for new loans and an increase in volume for asset value monitoring. For our litigation support work, we expect an increase further down the road."
" The courts in California are currently closed for civil litigation. Litigation support and expert witness services are my main source of business."
" More tax appeals. More consulting/same appraisals. "
" More emphasis on consulting related to workouts, restructuring."
" Rental collections across all property types and across many states where we are invested, previously never an issue, is becoming a major concern."
" The construction industry will be affected with new working methods that will slow down the pace of construction projects."
" I expect litigation activity to increase as the economy falters."
" I mainly represent investors and tenants. Rents will fall and vacancy increase dramatically the rest of this year."
What property type(s) make up the majority of your business?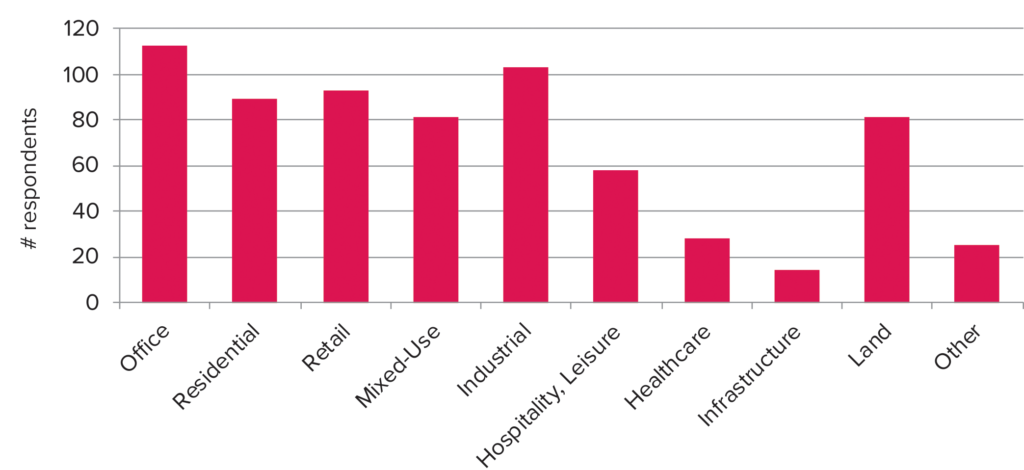 Here's what Counselors said about how the crisis is impacting property sectors:
" The retail business will be forever changed. The retail businesses that survive will be the leaders of the change in how goods and services will be presented. Multifamily design will reflect more stay at home workers. "
" This is an acceleration of what was already happening in retail. "
" Distressed commercial real estate loan work-outs will increase particularly on hotels and retail properties. "
" Price changes depend on property type: Hotels are performing the worst while data centers and some industrial are doing the best. "
" I'm a multifamily syndicator and operator. My business will be in flux two months for each month this continues. "
" People are rethinking the utilization of office space once the issues with COVID decline. I am continuing to watch with real estate lending & loans. "
" Industrial is strong, senior housing is strong, closings are delayed slightly because 3rd party reporting
is difficult to complete until COVID-19 declines – but not canceled. "
" Long term impacts of design of retail space and office space will impact the overall real estate industry. "
" We specialize in hospitality and golf. The hospitality industry has been impacted faster than other property types. Lenders are extending mortgage payments for 90 days. If the market does not recover quickly following the current outbreak/pandemic, there is a strong probability that lenders will be looking closely at asset values. If the market does recover quickly, there will likely be pent-up demand for lending/appraisal services."
" Long term impacts of design of retail and office space will impact the overall real estate industry. "
" Tenants have asked us to defer rents until they get government loans or business resumes. Most of our hotels are in secondary markets so we think they will come back sooner than the dense, urban markets. Vacation and business travel will resume first where people can comfortably do so and be socially distant. It will take longer for the dense markets and the dense events (corporate conferences, sporting events, conventions, etc) to resume. "
" Concerned about non-performing commercial and retail properties unable to make payments on CMB loans that aren't set up to make accommodations or short term forbearance agreements will lead to defaults and receiverships."
What size is your organization or firm?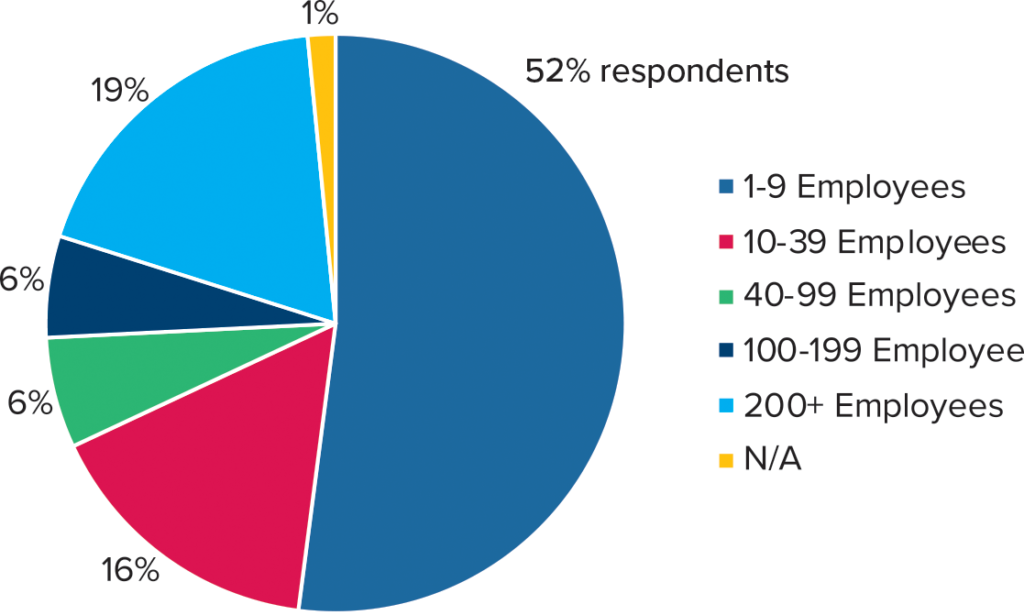 What are your staffing plans in the next 30 days?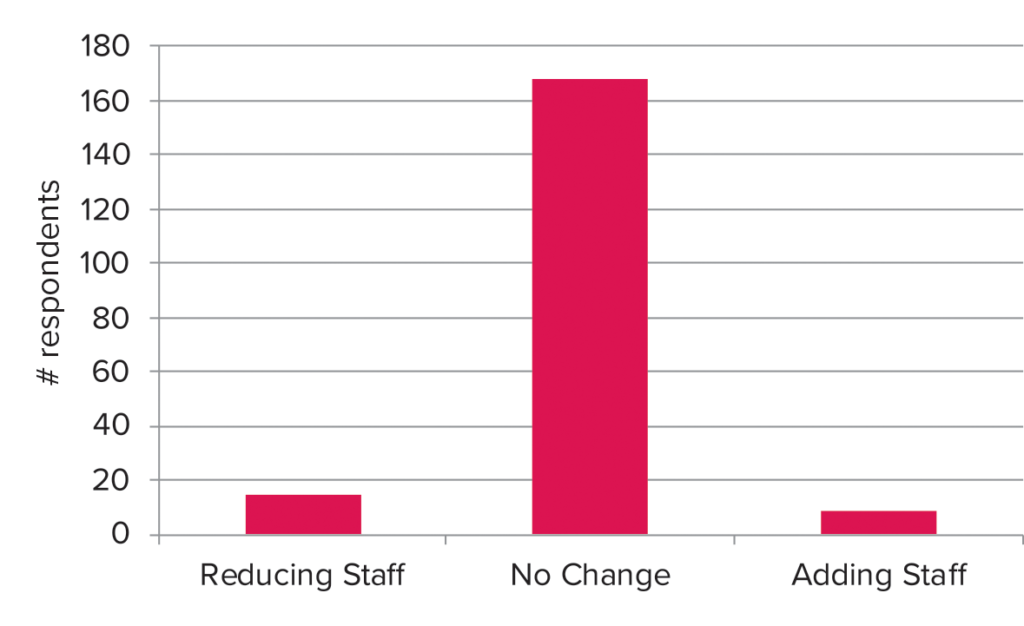 Currently (in April 2020), what portion of your staff is: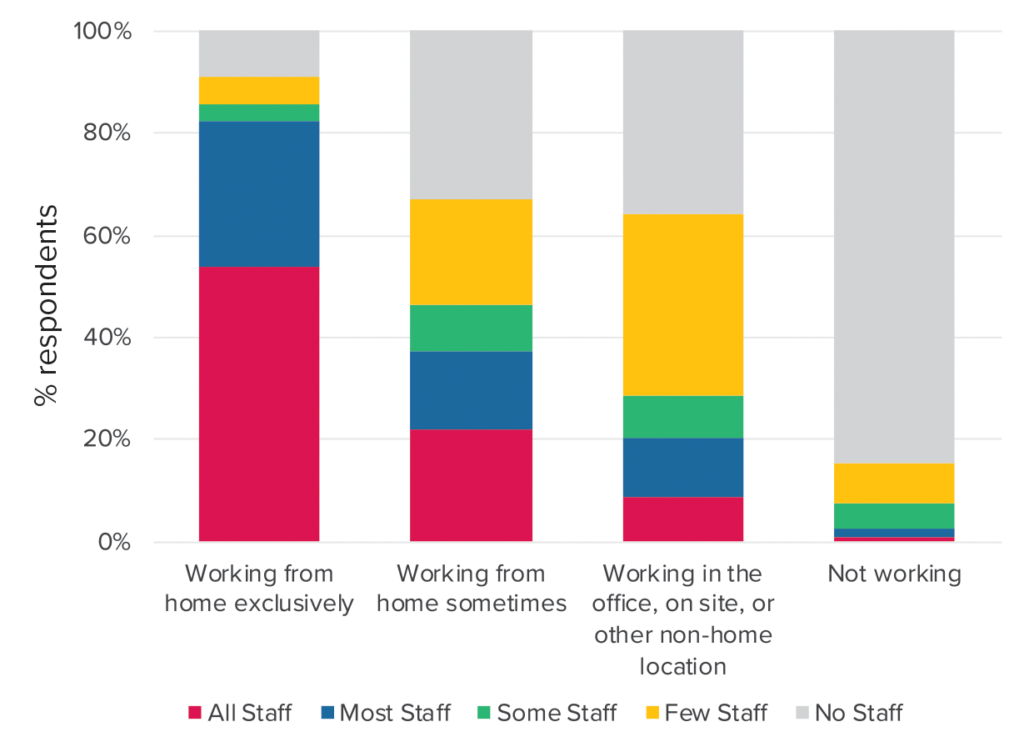 63% of respondents said that prior to the COVID-19 crisis, few or no staff worked from home.
Here's what Counselors said about staffing and working from home:
" We will hold staff together until this fiasco is over and return to mostly office staff. We see no change in projects which were in place in mid-March but future projects have been postponed into 2021. "
" Half our staff was immediately furloughed, I would expect that to hold, with maybe some additional cutbacks."
" Everyone is adjusting well to working remotely and using MS Teams and Zoom for meetings."
" We are trying to stay open with similar staff prior to the crisis. "
" We will now all work from home permanently. I gave up my office space that I had for 26 years. "
" 35% of our staff was furloughed on April 1st."
" Working remotely has made us a little more efficient, with more time spent to achieve the completion of assignments."
" Current backlog looks good through May. But if transactions slow, then attention will focus on restructuring and revaluations. This may or may not allow us to retain full staffing so furloughs/lay-offs become a possibility. "
How has your workload changed from the beginning of 2020 to April 2020?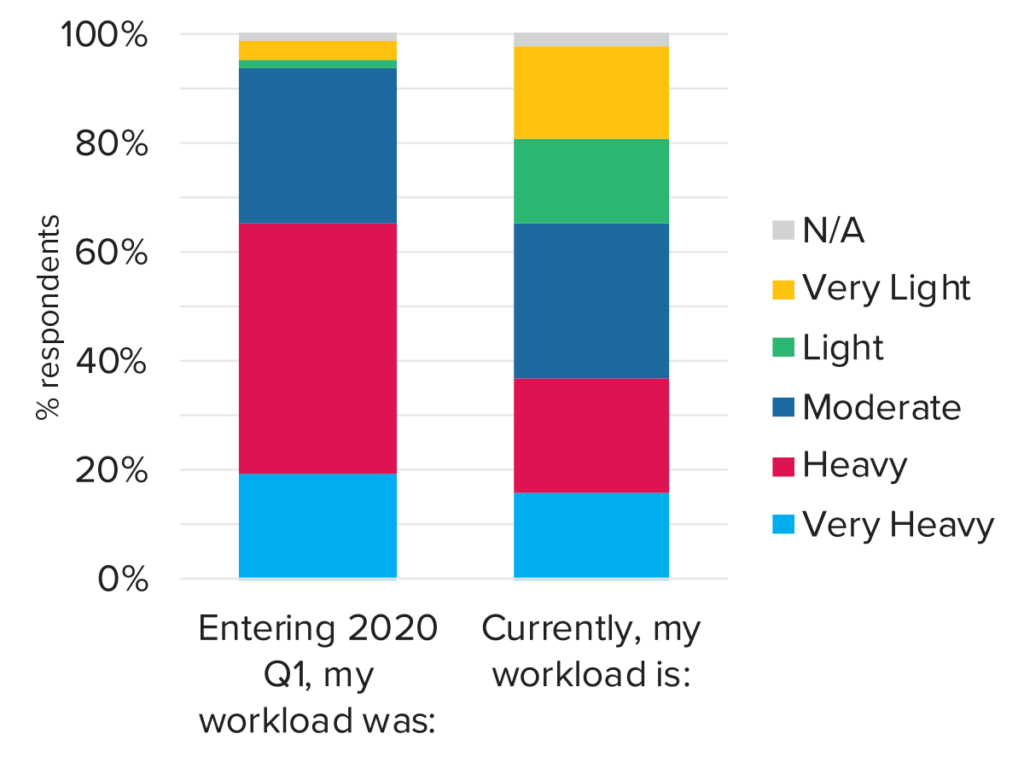 Which of these if any have applied in regard to your business transactions during the past 30 days because of changing market conditions: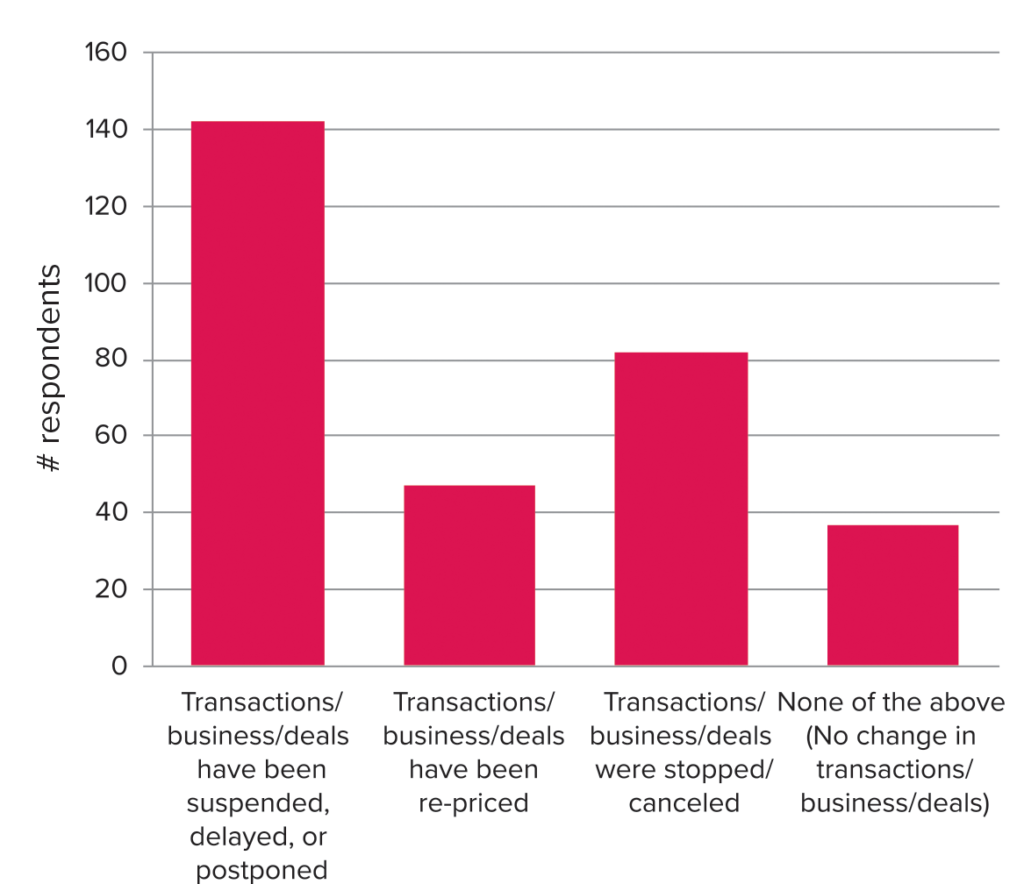 Overall, how do you expect business in your area of expertise to change in the next 30 days?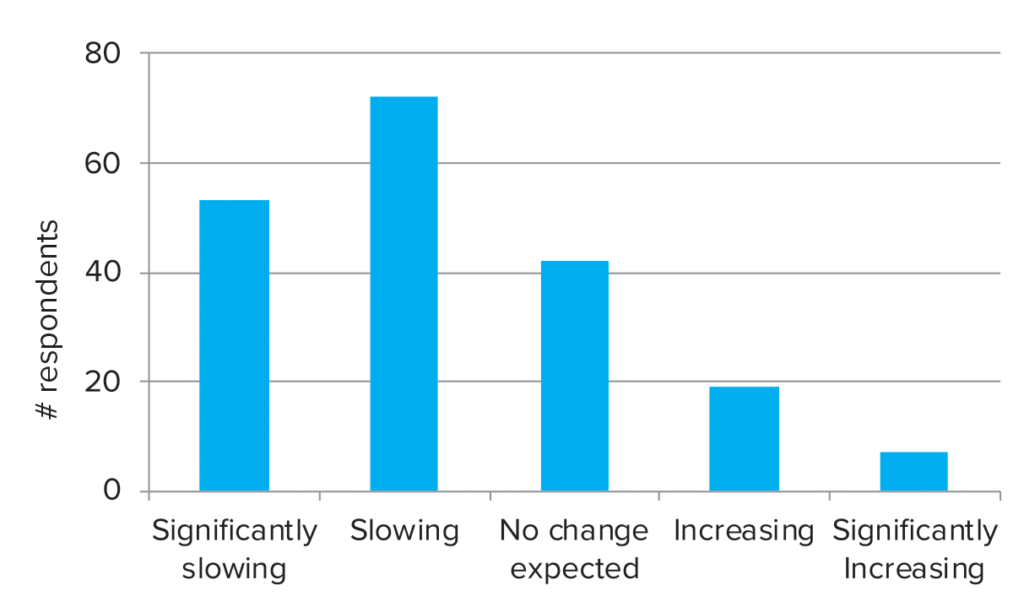 The Real Capital Analytics Commercial Property Price Indices (RCA CPPI) increased by 1.6% from December 2019 to February 2020. How do you think prices will change in the next 3 months?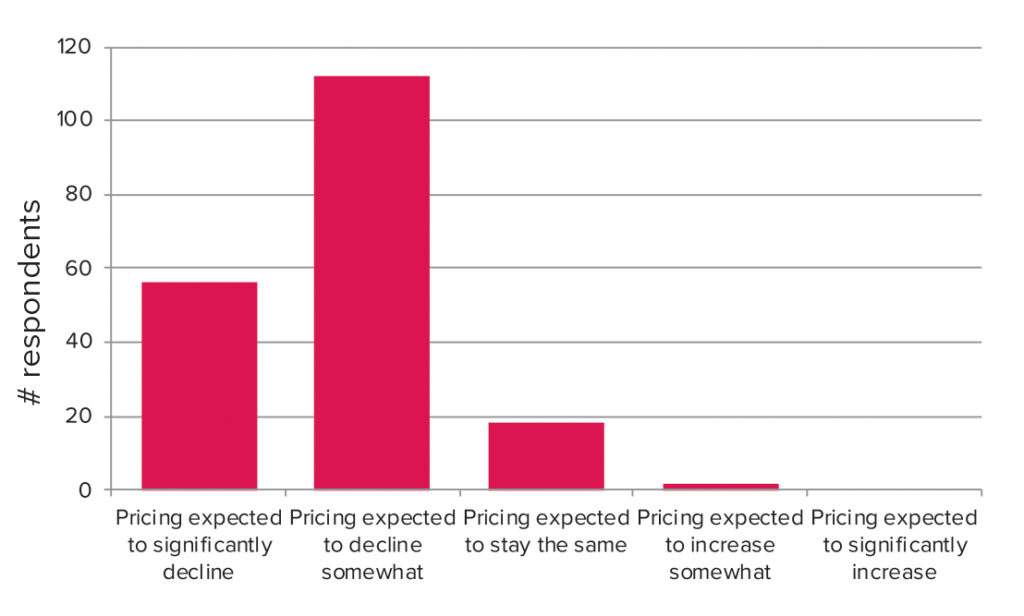 Here's what Counselors said about the effects on the industry and their business:
" Seeing more business due to still lending in the construction market at higher LTC ratios. Value is difficult to discern with nearly everyone on the sidelines. I expect Bid/Ask spreads to be wide except for assets that are distressed. Back to "is this a recession/depression conversations" that I had 10 years ago. As Yogi Berra said "Deja vu all over again!" "
"The availability of debt is critical. Without liquidity in the debt markets, sales volume will decline significantly."
" We believe that the impacts to our business will be most heavily felt in the summer and fall of this year, not within the next 30 days. "
" Slow comeback. Notable portion of work is discretionary; easily delayed/ cancelled. May get some special circumstance consulting. "
" Too early to assess duration of uncertainty in the market. I anticipate uptick in REO assets and disposition related assignments."