"We were very fortunate to host the CRE advisors in Rome. They were impressed with the level of redevelopment of the Griffiss Business and Technology Park as well as the unfolding success of the Downtown Revitalization Initiative.  They provided valuable feedback and strategies that have helped us attract light industrial interest to the site as our city continues to grow."
Mayor Jacqueline M. Izzo
Background
Rome, New York, with a population of approximately 33,000, is located in central New York, part of the Mohawk Valley in Oneida County. For more than 60 years Rome Cable Corporation designed, manufactured and supplied wire and cable products for industrial, utility, and commercial markets on this 40-acre site. The company closed its doors and liquidated all assets in 2003. In the years that followed, a $13 million cleanup was conducted by the New York State Department of Environmental Conservation. Approximately 10 acres are developable; the remainder is wetlands and would likely be dedicated open and/or recreational space. Downtown Rome needs development and job creation to strengthen the urban core and bolster the overall sustainability of the City of Rome. Project goals include better utilizing urban land and catalyzing investment.
Challenge
Rome Industrial Development Corp, Rome Brownfields Restoration Corporation, and Mohawk Valley EDGE requested assistance from The Counselors of Real Estate's CRE® Consulting Corps to address the redevelopment of the former Rome Cable Complex 4 site. Through a partnership with the Center for Creative Land Recycling and with support from the CRE® Foundation, the Consulting Corps is bringing its unbiased, objective perspective to identify priority investments to facilitate development, maximize the site, inform marketing and positioning, and prepare the site to go to market. The team is developing action-oriented guidance as well as a critical path to implementation for this piece of Rome history.
Client
The Rome Community Brownfield Restoration Corporation (RCBRC), a nonprofit focused on promoting the redevelopment or re-use of the former Rome Cable site for economic development purposes, holds title to the property. RCBRC collaborates with Mohawk Valley EDGE (Economic Development Growth Enterprises Corporation), an economic development organization that provides services including business attraction, marketing, site development, capital projects, project financing, grant administration, brownfields, real estate management, public advocacy, and community outreach and engagement.

Partner
The Center for Creative Land Recycling (CCLR) is a nonprofit organization dedicated to building local capacity for sustainable and equitable land reuse. CCLR works with communities to transform underutilized and environmentally-impacted contaminated properties into community assets.

Team
The team was led by P. Barton DeLacy, CRE, with Graham Grady, Esq., CRE, Michael P. Hedden, CRE, R. J. Neary, CRE, Christina H. Thoreson, CRE, and Maribel Koella, CRE.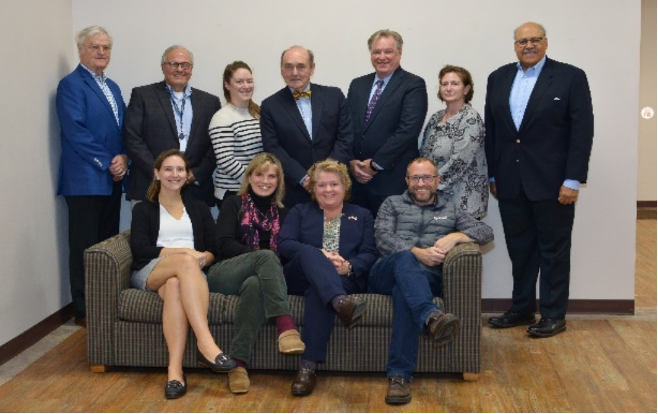 Back row from left: RJ Neary, CRE, Steve Dimeo, MVEDGE, Laura Cohen, MVEDGE, Barton DeLacy, CRE, Michael Hedden, CRE, Jean Hamerman, CCLR, Graham Grady, CRE. Front row from left: Jennifer Waters, MVEDGE, Joelle Greenland, CCLR, Christina Thoreson, CRE, Christian Mercurio, MVEDGE. 
CRE® Consulting Corps Rome Team in the News
Center for Creative Land Recycling Webinar and Blog