The Counselors Webinar Series 2020 Session 2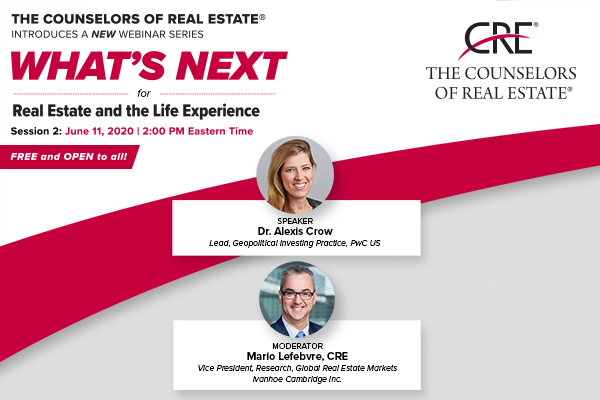 Date & Time
June 11, 2020
What's Next for Real Estate and the Life Experience
The Counselors Webinar Series 2020
Session 2: Global Real Estate and Geopolitical Asset Allocation: Where to Invest Amidst COVID-19?
Date: June 11, 2020
Time: 2:00 PM Eastern, 1:00 PM Central, 12:00 PM Mountain, 11:00 AM Pacific
Speaker: Alexis Crow, Ph.D., Lead, Geopolitical Investing Practice, PwC
Moderator: Mario Lefebvre, CRE, Vice President, Research, Global Real Estate Markets, Ivanhoe Cambridge Inc., Montreal, QC
Introductions: Michel Couillard, CRE, FRICS, 2020 Global Chair, The Counselors of Real Estate
From both a geopolitical and macroeconomic perspective, Dr. Alexis Crow combines practice and theory into a captivating presentation offering a lens through which dislocations in the market are identified, opening your eyes to the global economic environment, the current and predicted geopolitical landscape, and the COVID-19 implications on the future of office, retail, residential, industrial, and hospitality: what Dr. Crow calls the "real estate food groups."
What will the shape of the recovery look like?  What will be the effect, if any, of the multi-phased U.S. fiscal stimulus? What's the future of the workplace and where will our time be spent?
Do the trends of localization, on-shoring and near-shoring represent the end of globalization?  How will the U.S. recovery differ from that of the European Union? What's the prognosis for U.S.-China relations….and how will it affect the U.S. and global markets?
Join The Counselors of Real Estate on June 11 as Dr. Crow and Mr. Lefebvre engage in dialogue—complemented by your questions—that will be entertaining, compelling, and most of all, informing.
Alexis Crow, Ph.D., leads the Geopolitical Investing Practice at PwC, advising leading companies and asset managers on capitalizing on dislocations to increase profits and facilitate global expansion.  She is a member of the Global Futures Council on Geopolitics for the World Economic Forum, a Senior Fellow and guest lecturer at Columbia Business School, and a Senior Fellow in the Global Business and Economics Program at the Atlantic Council in Washington D.C.  Dr. Crow holds a Ph.D. from the London School of Economics and Political Science.  She is fluent in French and Spanish, and has a working knowledge of the Portuguese and Italian languages.
Moderator Mario Lefebvre, CRE, is the Vice President of  Research, Global Real Estate Markets, at Ivanhoe Cambridge Inc., in Montreal.  His curricula vitae includes the positions of President & CEO of the Quebec Urban Development Institute, a lobby group for Quebec's commercial real estate industry, Director of the Centre for Municipal Studies for The Conference Board of Canada, the country's largest economic think tank, and Economist with The Bank of Canada.  Mr. Lefebvre is the co-author of Power Play: The Business Economics of Pro Sports.
About the Webinar Series
What's Next for Real Estate and the Life Experience is a compelling new webinar series from The Counselors of Real Estate—offering expert interpretation from provocative speakers who not only represent diverse and novel thinking, but question prevailing thinking.  OPEN TO ALL, these exclusive webinars offer high impact, high value (THEY'RE FREE!), and a high return from leading real estate and societal influencers worldwide. Each session will be future tense, providing meaningful insights you can use NOW to position your business for the years ahead.
Discover the finest hour of real estate dialogue every month with The Counselors Webinar Series 2020.
Coming Soon in The Counselors Webinar Series
Session 4: Redesign and Retrofitting of the Office Building and Mixed-Use Properties in a New Era
Speaker: Tom Shircliff, CRE, Co-Founder and Principal, Intelligent Buildings, LLC
Session 5 | September 10, 2020
Speaker: Spencer Levy, Chairman of Americas Research and Senior Economic Advisor, CBRE