The Counselors Webinar Series 2020 Session 1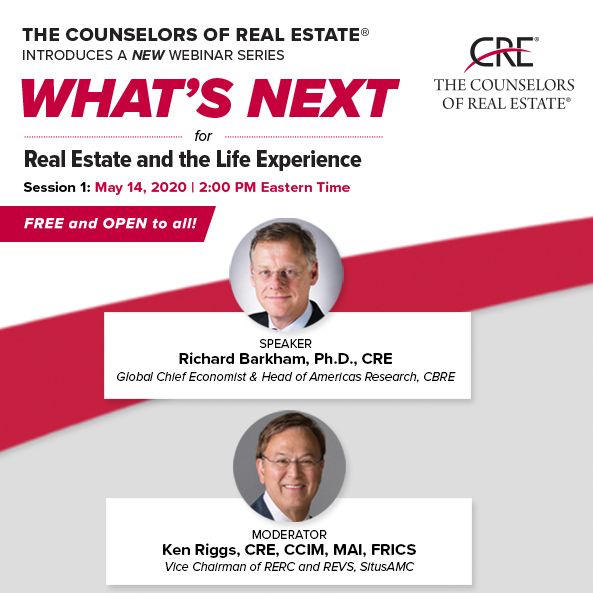 What's Next for Real Estate and the Life Experience
The Counselors Webinar Series 2020
Session 1
Date: May 14, 2020
Time: 2:00 PM Eastern, 1:00 PM Central, 12:00 PM Mountain, 11:00 AM Pacific
Speaker: Richard Barkham, Ph.D., CRE, Global Chief Economist & Head of Americas Research, CBRE
Moderator: Ken Riggs, CRE, CCIM, MAI, FRICS, Vice Chairman of SitusAMC's Real Estate Research Corporation (RERC) and Real Estate Valuation Solutions (REVS) Divisions
Introductions: Michel Couillard, CRE, FRICS, 2020 CRE Global Chair
Richard Barkham, Ph.D., CRE, shares an eye-opening macro and micro perspective on what a post COVID-19 world order will look like and what it means for the vitality–or lack thereof–of property asset classes. He'll go beyond real estate and examine societal impacts, bringing a sharper focus to the opaque realities of "The New Normal" and interpreting their effects on property types and markets around the globe.
Dr. Barkham is one of the world's leading economists and real estate advisors.  In addition to his global role at CBRE, he is a Visiting Professor at the Bartlett School of Architecture at University College London. A prolific writer and speaker, Richard holds a Ph.D. in economics from the University of Reading in Reading, England. Based in Boston, he leads a team of 700 researchers worldwide.
Kenneth Riggs, CRE, is vice chairman of SitusAMC's Real Estate Research Corporation (RERC) and Real Estate Valuation Solutions (REVS) divisions. Under the direction of Mr. Riggs, RERC and REVS continue their prominent positions within the real estate industry as premier sources for investment criteria and leaders in research, valuation, valuation management, independent fiduciary services, and consulting for institutional investors. Ken is publisher of the quarterly RERC Real Estate Report, and co-publisher of its annual Expectations & Market Realities in Real Estate. He holds an MBA with a concentration in finance and statistics from The University of Chicago.
At the end of the 1-hour presentation, Dr. Barkham will respond to questions from our "virtual" audience.
About the Webinar Series
What's Next for Real Estate and the Life Experience is a compelling new webinar series from The Counselors of Real Estate—offering expert interpretation from provocative speakers who not only represent diverse and novel thinking, but question prevailing thinking.  OPEN TO ALL, these exclusive webinars offer high impact, high value (THEY'RE FREE!), and a high return from leading real estate and societal influencers worldwide. Each session will be future tense, providing meaningful insights you can use NOW to position your business for the years ahead. Chaos brings disruption…but it is also a source of extraordinary OPPORTUNITY for those who recognize the new possibilities rooted in societal need and changing behavioral patterns.
Discover something new and thought-provoking every month with The Counselors Webinar Series 2020.