Introduction of New Members – Fall 2020 Class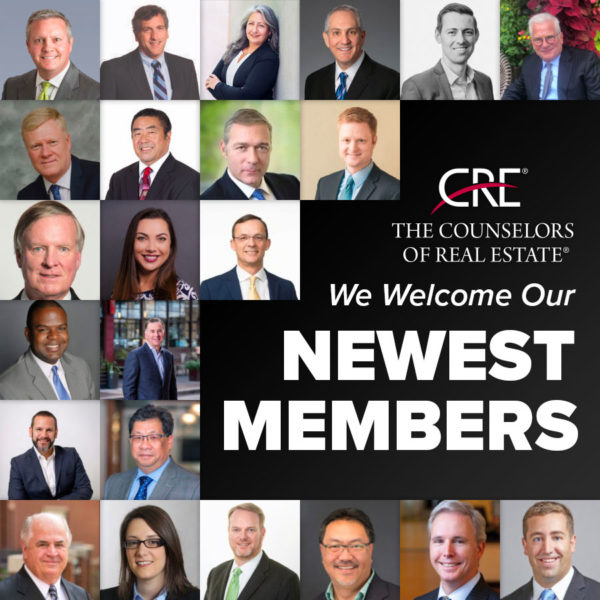 Date & Time
June 29, 2021
A long-standing tradition of The Counselors of Real Estate is to formally introduce new members of the organization to their CRE colleagues during one of two global conferences held annually. This event has historically consisted of an official, public Welcome by The Counselors' elected leadership and an opportunity for each newly invited member to address those assembled from the podium.
In view of the unprecedented circumstances which continue to limit public gatherings at this time, we are organizing a second "Virtual" Introduction of the new members invited in the Fall of 2020, as well as a few who missed the opportunity to introduce themselves during on earlier event.
Over ZOOM, Michel Couillard, 2020/21 CRE® Chair, will host the presentation at 11:00 AM CST on Tuesday, June 29. He will personally greet and congratulate each new member, who in turn will take a moment to share a brief summary of their professional background and specialty, as well as their personal motivation for becoming a CRE.
This celebratory occasion is OPEN TO ALL MEMBERS, utilizing the wide reach of technology.  Counselors of Real Estate who have experienced our formal  "Welcome of New Members" repeatedly comment on how moving these testimonials are… and how reassuring.
All CREs can take a measure of pride in the knowledge that the CRE Credential continues to reflect the world's leading property advisors at a time when the need for "Credentialed Real Estate Problem Solvers" has reached an all-time high.
Take a moment on June 29 to be inspired by your newest CRE colleagues.