Jared Shlaes Prize
The Criteria and the Prize
Awarded annually to the author or authors of an article, published in Real Estate Issues (REI) in that year that most exemplifies the goal of "making real estate clear to the broadest possible audience."
The Editorial Board of REI shall select 5 finalists.
The jury for the prize shall include the REI Board and the three donors (Amity, Jane, and Noah Shlaes).
The jury has the discretion to select articles from outside the pool of finalists, but the winning article or articles must have been published in REI.
The Prize shall be in the amount of $10,000, awarded each year for 10 years.
For information on submitting an article for publication in Real Estate Issues, please contact Larisa Phillips, Managing Editor (lphillips@cre.org; 312-329-8422)
Ethan Blevins Accepts the First-Ever Jared Shlaes Prize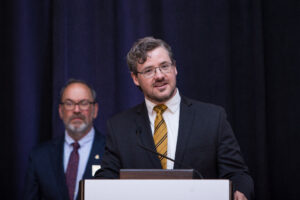 Pacific Legal Foundation's Ethan Blevins accepts the first-ever Jared Shlaes Prize, a $10,000 award given annually to a Real Estate Issues author whose writing personifies clarity of thought. Noah Shlaes, CRE, (left) presented the award along with his sisters Jane and Amity in honor of their father, Jared Shlaes, CRE (1930 – 2020), creator and founder of Real Estate Issues. Read the winning article, "Seattle Housing: A Case Study in Crisis Creation," here.