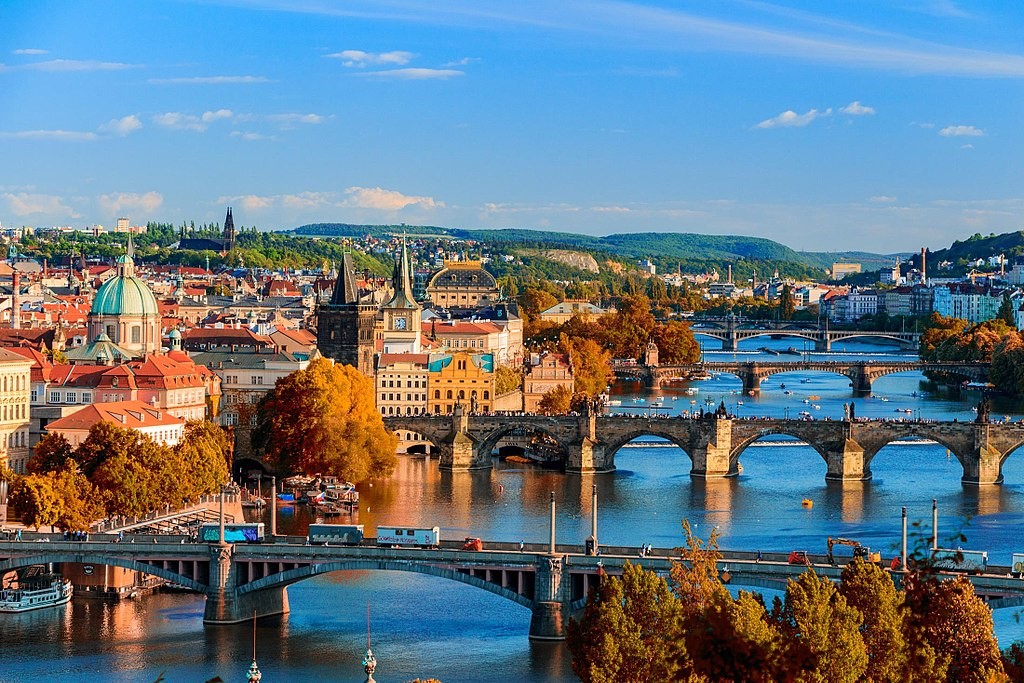 Mark your calendar for The Counselors of Real Estate European Chapter's 2023 International Conference in historic Prague, Czech Republic.
*This event is open to the public. Feel free to share with colleagues, business partners, and prospective CREs*
Day 1: June 14th
Welcome Dinner
Day 2: June 15th
Development Tour – Brumlovka
Story of reborn of 25 hectares sustainable and self-financing city district, made and owned by one investor
A quarter of a century ago, the Passerinvest Group began building its first office buildings on a neglected brownfield in Prague's sub-district. The determination of the investor and respect for the long-term and well-thought-out urban plan, designed by the architect Aulík, transformed the area into a distinctive modern urban district that meets the criteria for short-distance cities. The first construction began in 1996; today, Brumlovka represents the 25-hectare self-sustainable and self-financing sub-district. Moreover, the investor invested over 10% of all investment costs in nonprofit investments. Thanks to that fact, Brumlovka is not an ordinary development project but a place for living with one of the highest quality public spaces in Europe made by a private investor.
If you wish to discover more about this unique lifetime development project, please accept our invitation to the CRE Development Tour Brumlovka.
Program: Site walk with a presentation by the investor (office, school, stadium, multimedia center, public spaces, parks, rooftop gardens, etc.). Presentation of Mr. Passer's American dream story. Snack and discussion with Mr. Passer – CEO and founder of Passerinvest Group.
Small taste: https://youtu.be/vDcMocsujnk
More details: https://www.brumlovka.cz/en/about-us/about-brumlovka
European Chapter Board Meeting

Historic Sightseeing Tour Via Tram

Dinner Cruise on the Vltava River
Day 3: June 16th

8:00 – 8:30AM: Coffee, tea
8:30-8:45AM: WELCOME ADDRESS
Ralf Koschny, CRE, Chairman of CRE European Chapter (5 mins)
Eddie Forejt, CRE, Vice-Chair of the CRE European Chapter (5 mins)
Will McCarthy, CRE, Global Chair (5 mins)
8:45-9:25AM: KEYNOTE: Overview of the Current Geopolitical Situation
9:25-10:25AM: PANEL SESSION I: GLOBAL ECONOMIC OVERVIEW. Real Estate Driven.
Moderator: Tomas Fencl, CRE
Length: 60 mins
Format: Introductory Macroeconomic/Geopolitical Presentation
(10 mins) – Discussion (40 mins) – Q&A (10 mins)
4 Speakers TBD
10:25 – 10:45AM: Coffee Break
10:45AM- 11:45PM: PANEL SESSION II: INFLATION, INTEREST RATES, REGULATORY BODIES, GLOBAL & REGIONAL IMPACT
Moderator: Inga Schwarz, CRE, Head of Research, BNP Paribas
Length 45 mins – 60 mins
3-4 Speakers TBD 
11:45-12:30PM: PANEL SESSION III: REBUILDING EFFORTS IN UKRAINE – FUTURE OUTLOOK
Moderator: Julia Hoagland, CRE
Format: Intro- Discussion- Q&A
Length: 45 mins
3 Speakers TBD
12:30 – 1:15PM: PANEL IV: CHALLENGES FOR THE ASSET CLASSES: (ESG, Rising Rents, Declining Yields, etc.)
Moderator: Ralf Koschny, CRE
Format: Intro – Discussion – Q&A
4 Speakers:
Mathias Leidgeb, MD, Palmira (Logistics)
Kathrine Heiberg, CRE, CEO, Reteam Group (Retail & Mixed-Use)
Sascha Kilb, CRE, MD, Drees & Sommer (ESG)
Eddie Forejt, CRE, Development Director, Passerinvest Group (Offices)
1:15 – 2:30PM: Lunch
2:45 – 3:30PM: PANEL V: RESPONSIBLE/-IVE CITY PLANNING VIS-À-VIS CLIMATE CHANGE
Moderator: Tomas Ctibor, CRE
3 Speakers TBD
3:30 – 4:15PM: PANEL SESSION VI: AFFORDABLE HOUSING & GLOBAL CHALLENGES
Moderator: Jana Seckarova, CRE
3-4 Speakers TBD
4:15 – 5:00PM: Coffee & Networking
4:15-5:30PM: CREs, guests and spouses to refresh for the soirée.
5:45PM: CREs, spouses, CRE potential member candidates and conference speakers to depart for the social gathering.
6:00-10:00PM: Dinner, Beer & Music at the RED DEER Beer Hall
---
Recommended Hotels in the Vicinity of the Conference Venue:
The European Chapter has negotiated rates with the following hotels, so be sure to mention you are with The Counselors when making your reservation.
Conference Venue: MUNICIPAL HOUSE, Gregr Hall (& Palacky Hall for catering/chill out)
Namesti Republiky Prague 1
Hotel Paris Prague, U Obecniho domu 1, Prague 1
Use promo code "CREPrg2023"
1 min walk from/to the conference venue
CRE Negotiated Price: Deluxe/Standard room EUR 250; Exec. room 280; Junior suite 320, per night & room
Availability for CREs: 18 Deluxe/Standard rooms, 6 Executive rooms, a 6 Junior Suites.
Cancellation Policy: More than a week prior to the event: free of charge. 7 days prior and closer to the event: there is 1 night charge for a a late cancellation fee (This room booking option will be closed 2 weeks prior to the conference.)
Contact Person: Ms. Veronika Roubalova sales@hotel-paris.cz
Hotel Josef, Rybna 20, Prague 1
Use promo code: "CRE-TECH" (applicable for June 12-18, 2023)
4 min walk from/to the conference venue
NOTE: This is the "home" venue of the conference: Registration, badges, information, check-in & ticketing, etc., on 6/14 & 6/15 will be at the Hotel Josef.
In addition, the European Chapter's Board Meeting will be held at this hotel. This meeting is open to all CREs, but space is limited.
CRE Negotiated Cost: USD 200, – standard room/ night. For larger room inquiries, e.g. Balcony, Josef Castle View Room, etc., please contact Ms. Lucia Pejchalova via meetings@hoteljosef.com regarding the CRE discounted rate.
Initial Availability for CREs: 40 rooms
Cancellation Policy: Should you need to cancel your room booking, please contact Ms. Lucia Pejchalova via meetings@hoteljosef.com
Grand Majestic Hotel, Truhlarska 16, Prague 1
Use promo code "CREPrg2023" or this link (applicable for June 12-18, 2023)
5 min walk from/to the conference venue
CRE Negotiated Cost: USD 160, – standard room/night.
Initial Availability for CREs: 20 rooms
Cancellation Policy: Free cancellation of the reservation will be possible up to 14 days before arrival, no later than 14:00. From 14 – 7 working days prior to arrival, 50% of total amount cancellation fee will be applied. From 7 working days prior arrival 100% of total amount cancelation fee will be applied.
Contact Person: Ms. Radka Betkova, radka.betkova@le-hotels.cz
If you have any accommodation questions, please email Katerina Partlova via partlova@cre-ech.eu.