CRE Committee Service Award
The CRE Committee Service Award provides official recognition of exemplary committee, task force, or other extraordinary service to the CRE organization. Established in 1996, the award recipient is selected by the chair of the board in collaboration with the organization president.
Debbie Nisson, CRE, Receives 2022 Committee Service Award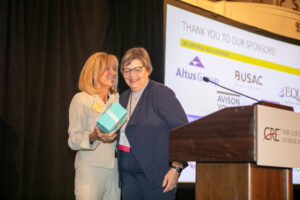 2022 Global Chair Marilee Utter, CRE, presents Debbie Nisson, CRE, with the Committee Service Award in recognition of her exemplary service to the organization. Debbie is currently editor-in-chief of Real Estate Issues and was influential in establishing the Capital Region CRE Chapter.
Past Recipients
Past Recipients
Past Recipients
Past Recipients
Past Recipients
Past Recipients
Past Recipients
Past Recipients
Past Recipients
Past Recipients
Past Recipients
Past Recipients
Past Recipients
Past Recipients
Past Recipients
Past Recipients
Past Recipients
Past Recipients
Past Recipients
Past Recipients
Past Recipients